Volunteers are a vital part of C.A.T.S.
No matter what your talents, C.A.T.S. has a place for you! Whether you like to work with cats, people or both, we can use your help. Volunteers are needed to switch out cats for run times, do laundry, help with events and, after some training, adopting out cats to their furr-ever homes. If you don't have time to volunteer, donations are always needed and appreciated. Food, litter, toys, knit/crocheted take home blankets and, of course, monetary donations are always in need.
Our volunteers range in age from 12 to over 90. All we require is love for cats and dedication to their welfare.
If you are interested in volunteering at C.A.T.S., please stop by the shelter during business hours for more information.
Volunteer Requirements:
Complete a volunteer application (available at shelter).
Review the Volunteer Orientation PDF. It contains enough information to help you get started.
Must be at least 12 years old to volunteer at C.A.T.S.; volunteers under 16 must volunteer along side a parent or guardian.
Must be able to read, comprehend and follow written and verbal instructions without supervision or assistance.
Comply with C.A.T.S.' rules and regulations.
C.A.T.S.' volunteer program does not accept court-ordered community service.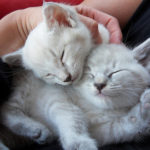 Join our Foster Program
Foster parents are the stepping stone to a great forever companion! Find out more about our Foster Program here.